Tuna Bake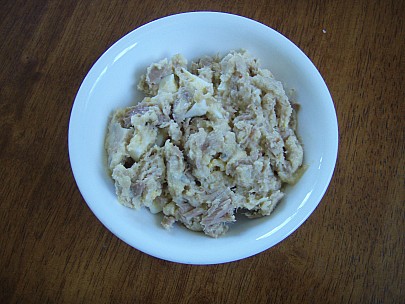 60g butter 2 Tablespoons standard flour 500ml milk teaspoon mustard powder 90g grated cheese 400g tinned tuna in brine 2 eggs 4 Tablespoons breadcrumbs Ground paprika, for dusting
Method:
Preheat the oven to 180C
Melt butter in a small saucepan, add the flour and stir over low heat for 1 minute
Remove from the heat and slowly pour in the milk, stirring until you have a smooth sauce
Return the pan to the heat and stir constantly until the sauce boils and thickens
Turn on low and simmer for another 2 minutes
Remove the pan from the heat and turn the element off
Stir in the mustard and two thirds of the cheese until you have a smooth, rich cheesy sauce
Hard boil the eggs and chop up. Add to the cheesy sauce along with the drained tuna. Spoon the mixture into an oven dish.
Mix together the breadcrumbs and the rest of the cheese, then sprinkle it over the bake. Lightly dust with paprika. Place in the oven for 20 minutes or until the topping is golden brown.
Serves 4